April 10, 2018
Employee Spotlight:
Wei Zhang, Ph.D.; Senior Research Scientist, Extractables & Leachables and Impurities (ELI)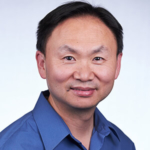 Periodically, AMRI honors employees for outstanding contributions. They make discoveries, uncover better approaches to manufacturing challenges and build pharmaceutical solutions that bring better tomorrows. The work they do, the efforts they make here, make the difference.
When trying to solve a problem, you often hear "think outside the box," however as ELI specialists who investigate trace impurities, we must think "inside the box." – Wei Zhang
Q: What about working in extractables, leachables and impurities motivates you every day? What makes you excited about the future of ELI?
A: ELI is a relatively new requirement imposed by the FDA, therefore many customers reaching out to us do not have much experience with how to proceed. Our expertise can help them with all the requirements from an ELI perspective. It motivates me most to think that we are part of their drug product program, and our efforts will directly contribute to the success of their new drug filing and eventually reach the market to benefit patients. When I pick up my prescriptions from the pharmacy and I notice the drug products that utilized our ELI services, that is the most rewarding feeling.
Ten years ago, not many customers were thinking about ELI when processing an ANDA filing. Now, we know that many impurities/recalls could have been prevented with E&L studies to make patients safer.
Q: What has been the most valuable thing you've learned as an employee of AMRI?
A: We are People Powered. This is one of AMRI's values and it doesn't just serve as a catchy line, it is why I find working here so valuable. Through my past ten years working at AMRI, I was mentored by great scientists and who instilled the essence of AMRI values in me through their own performance. They trained me to consider projects not only as projects assigned by my supervisor, but as opportunities to strengthen my own capacities, develop my own expertise and to align my career with the company's need. Taking ownership of the project and making a commitment to seek a better solution; I believe that is the right mindset.
Q: What teachings can you share with other scientists in ELI?
A: When trying to solve a problem, you often hear "think outside the box", however as ELI specialists who investigate trace impurities, we must think "inside the box". One recent example is a root-cause investigation of odor generated from a blister-packaged tablet drug product. As this is a trace impurity analysis, high-end analytical instruments are important, but knowledge and experience are the true drivers to solve the case. Based on the research of the materials and some past experience, we proposed a hypothesis that is the interaction between certain sulfur-containing polymer additives with trace amount of alcohol excipient in the drug formula. This hypothesis led us to identify the chemical causing the odor and narrowed down the suspects of the additive and the alcohol excipient. Subsequently, a confirmation experiment was performed to positively generate the odor-causing chemical. The case was solved.
I think this example is quite inspirational to many chemists, who based on their intuition, generally would not consider that the trace amount of alcohol in the tablet drug formula would initiate this type of seemingly impossible transformation by reacting with a polymer additive in the package material under an ambient temperature. Therefore, a comprehensive ELI study could be of great value to save time and trouble, such as drug recall from the market.